Monday February 5th
Women's Sailing Convention
I attended my first Women's Sailing Convention at Newport Beach
Our Journey
We left around 10am to head to Long Beach on Thursday. We planned to sail over and spend our night there.

There was fog! We even heard over the radio that they were advising sailors not to come out of the marina, because of the fog! With our foghorn in hand, we set sail and eventually got out of the fog. There are two types of fog in our area:

radiation fog (cold water)
convection fog (which usually blows out). Fortunately, we had convection fog, so within 20 minutes, it was clear again!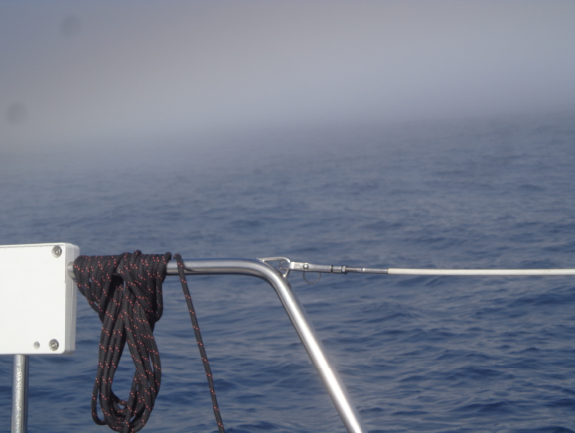 Finally, we got to Long Beach! This is the Lighthouse upon entering.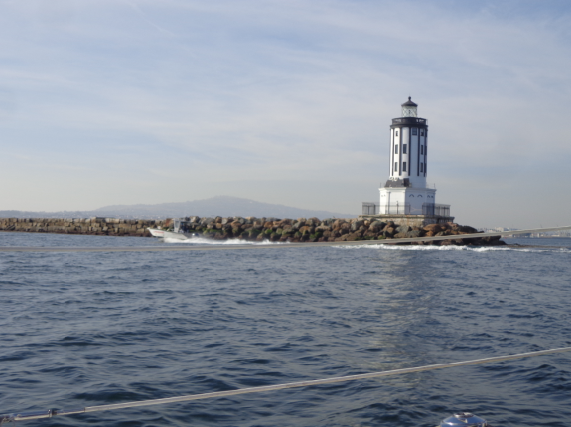 We had Happy hour and then settled down for the night. Then, we got up, took a shower, and headed out
Our early morning view in Long Beach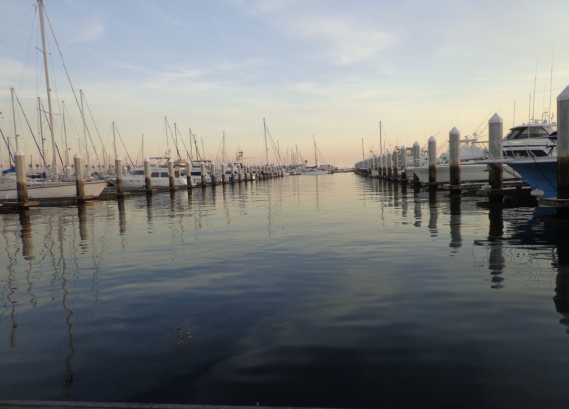 On our way out from Long Beach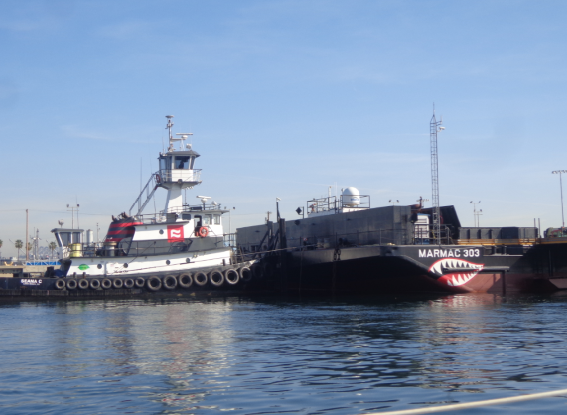 Long beach is one of the largest ports in the world. I liked this boat because it reminded me of an A-10. There is a tug-boat to the left.
We got to Newport
Happy hour again! :D
We met up with friends who also sailed or drove down. People came from as far as Manitoba, Canada, and New Jersey to attend.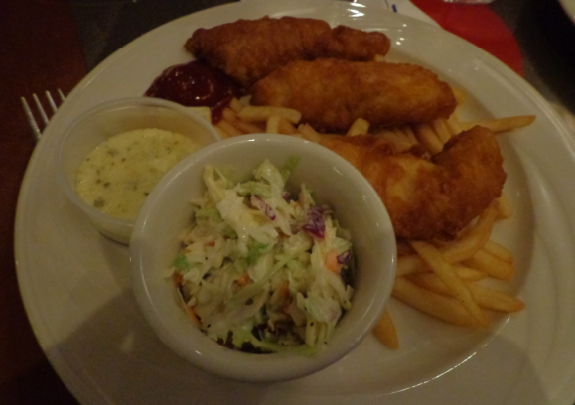 The Convention
Saturday morning, we were all set to attend the convention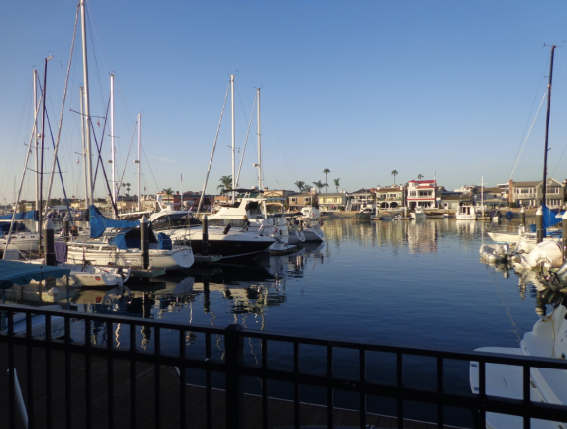 I really liked this boat's name :D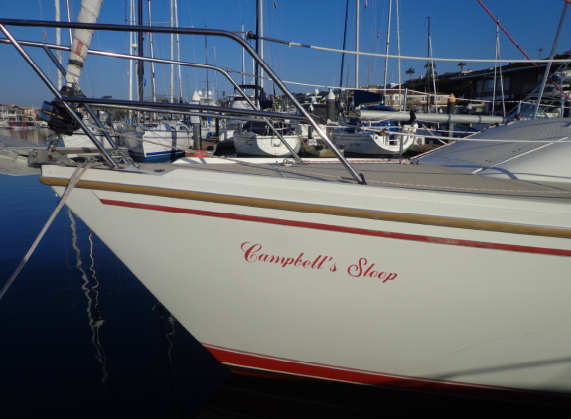 Classes I took
I took four workshops:

Dabble in Diesels
Easy Electrical
Maintenance Mania
Winch Wizard
Dabble in Diesels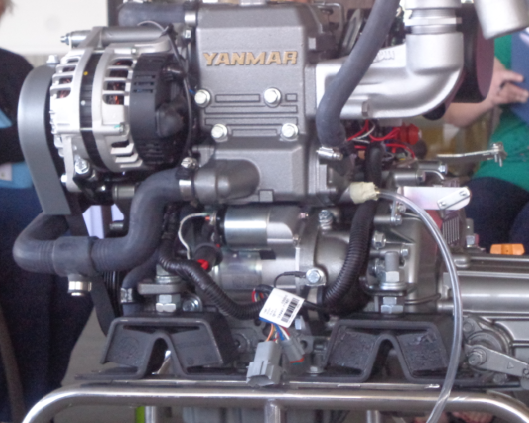 So…our boat actually had two issues coming down. We had a temporary fix for one issue, and had to work on another.
Essentially, our autosteering was slipping and we ended up using some string to tie it off so it would work while we were motoring to our destination. So that wasn't too big of a problem.

Our boat had some white smoke coming out of the back, which we surmised had something to do with a blocked water pump or something in our engine. So that meant when we got to Newport, we'd have to work on it. Sure enough, Holly, who ran the Diesel class, was sitting in our boat, along with the Captain, with washers and gaskets and O-rings, taking things apart.

Ours was not as nice, but we replaced the impeller, which is what lives in that little brass area, surrounded by gaskets
Easy electrical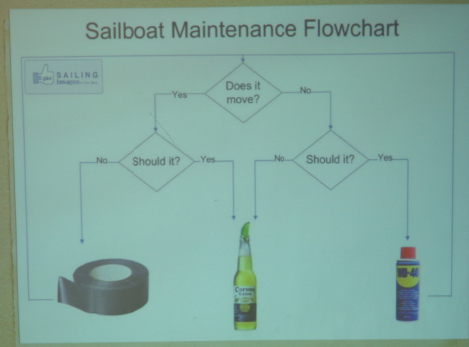 I have worked with some electrical stuff, so a lot of it was review for me. But I thought it was fun! Judy is amazing! She taught the class, and also teaches Physics and fixes everything on her boat! She is so great, she had a special folder with grades of sandpaper all neatly labelled!
Maintenance Mania
Judy taught this, and she had a plethora of ways to keep yourself organized and what to look for and within what time-frame. I heard a story of (in our marina) a couple who failed to maintain their boat and it sank right in the marina.
Winch Wizard
Firstly, this was our view for this class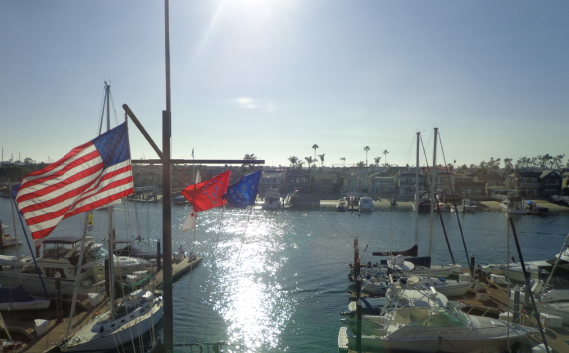 I actually signed up for the Spinnaker class, but then thought if I keep racing, I'd learn that, but I wouldn't always have the opportunity to see how to repair and clean the winches. So I opted for that one instead.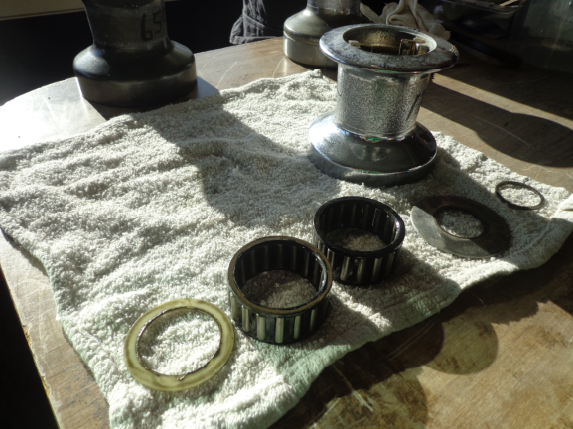 First, we took them apart. Always take them apart and set components in order they were taken apart.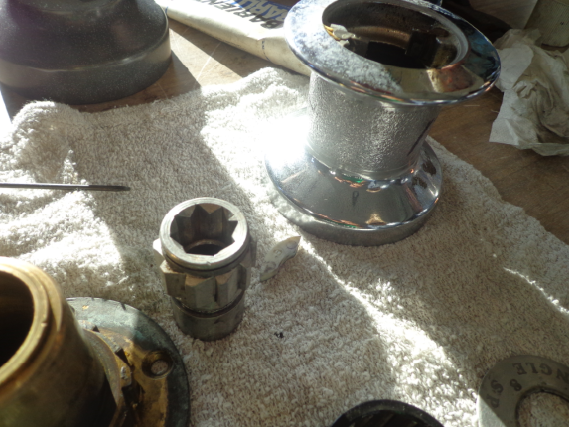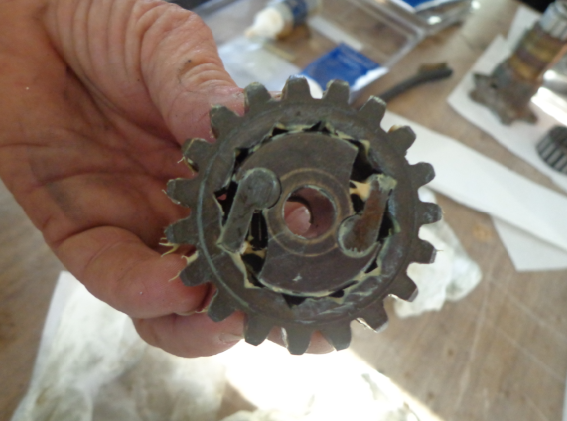 The inside of the gears, with clips. These are the "click-clicks" you hear when turning the winch! Most have two sets; two above and two below (at top and at base of each winch). There is also a spring to put it in place with two legs, applying pressure to one leg, while the other sits leaning across the side of the winch, and then placing the clip inside its designated spot.

I enjoyed it so much that I actually had a thought of doing a side-business where I offer to clean people's winches over summer or something. I think it would be fun. I also heard someone whisper "Look at how she just took that apart and put it back together so easily!" Ka-ching LOL.
Dinner
We went to our boat and had Happy Hour, and I met the wonderful Leigh, who lives in Mill Valley and sails in Sausalito! She told us about a Diesel Engine class where for eight hours you get to fix a broken Diesel Engine. So a bunch of us were convinced we're going to take the workshop, which is in Alameda every quarter :D

I missed the photo-shoot by the flag, but next year (we were busy with our wine, laughing and chatting away).

We then had dinner: 200 women in one room!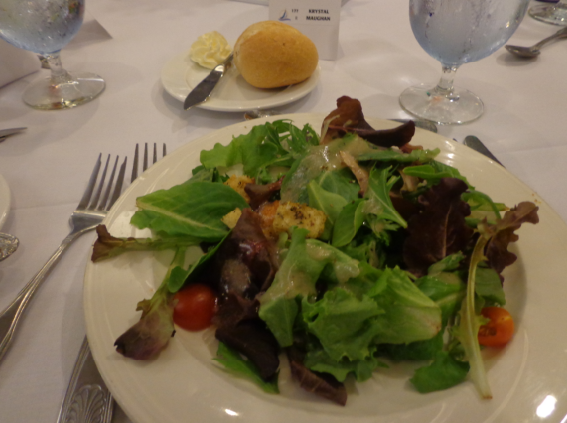 I ate dessert before I took a photo! :D
The lady who started it all
Gail Hine has been sailing from the age of 3, and she is in her 70s today. She is the lady who started the conference, and it's been going for 28 years strong. I was amazed on the first night, when she came over to our table, sat down and started laughing and drinking wine with the very people I had sailed down with. Everyone is just so nice, but also incredibly knowledgeable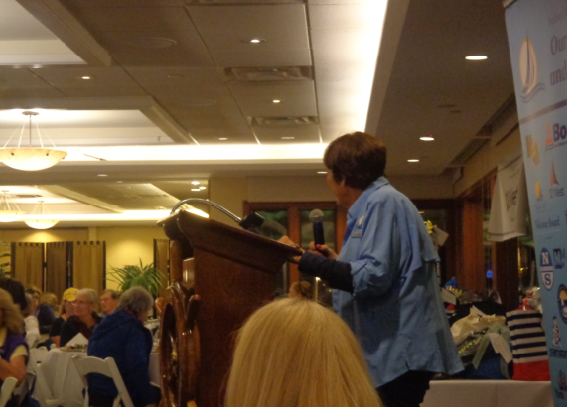 We also had a NASA scientist and sailer speak. She works at Johnson Space Centre and is an avid sailor. She started her own company to manufacture better Anchors, and it has expanded today. She also asked about the people who have been sailing the longest, and got one of them to tell their story (coincidentally, the lady sitting next to me, who was British!). Then, she asked about the people who recently started sailing, and for whom this is their first sailing conference, and I raised my hand and was chosen to speak about my experience. After that, she came over and gave me a bag, a tshirt, a cup holder and thanked me for telling my story.
Raffle
So they gave us a BUNCH of swag (a bookbag, a mini-anchor ornament, a coupon, a hat, etc)
After dinner, they raffled off a lot of stuff, including a 35 lb anchor, and one lady on our boat won a bag with a fender, a wrench-tool (see photo below), a key-ring, etc. She gave our Captain the fender and the tool and gave me the key-ring :D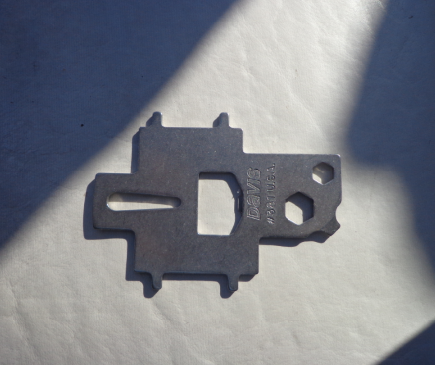 Yup, that middle part is for opening beer! That's for after all the work is done! :D
So, in all
A wonderful time! I met so many wonderful people! :D
I also bought a water-proof vest! I got one of the last, as they ran out!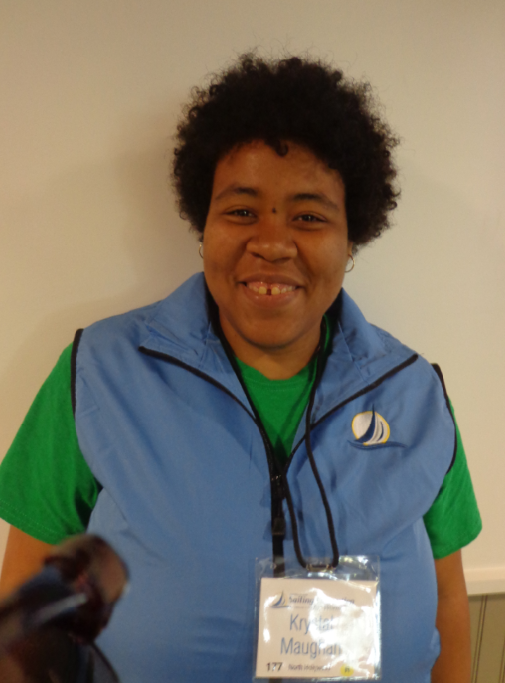 I've never been in a place
I've never been in a place with so many bright, high-achieving women. It was truly a unique and wonderful experience!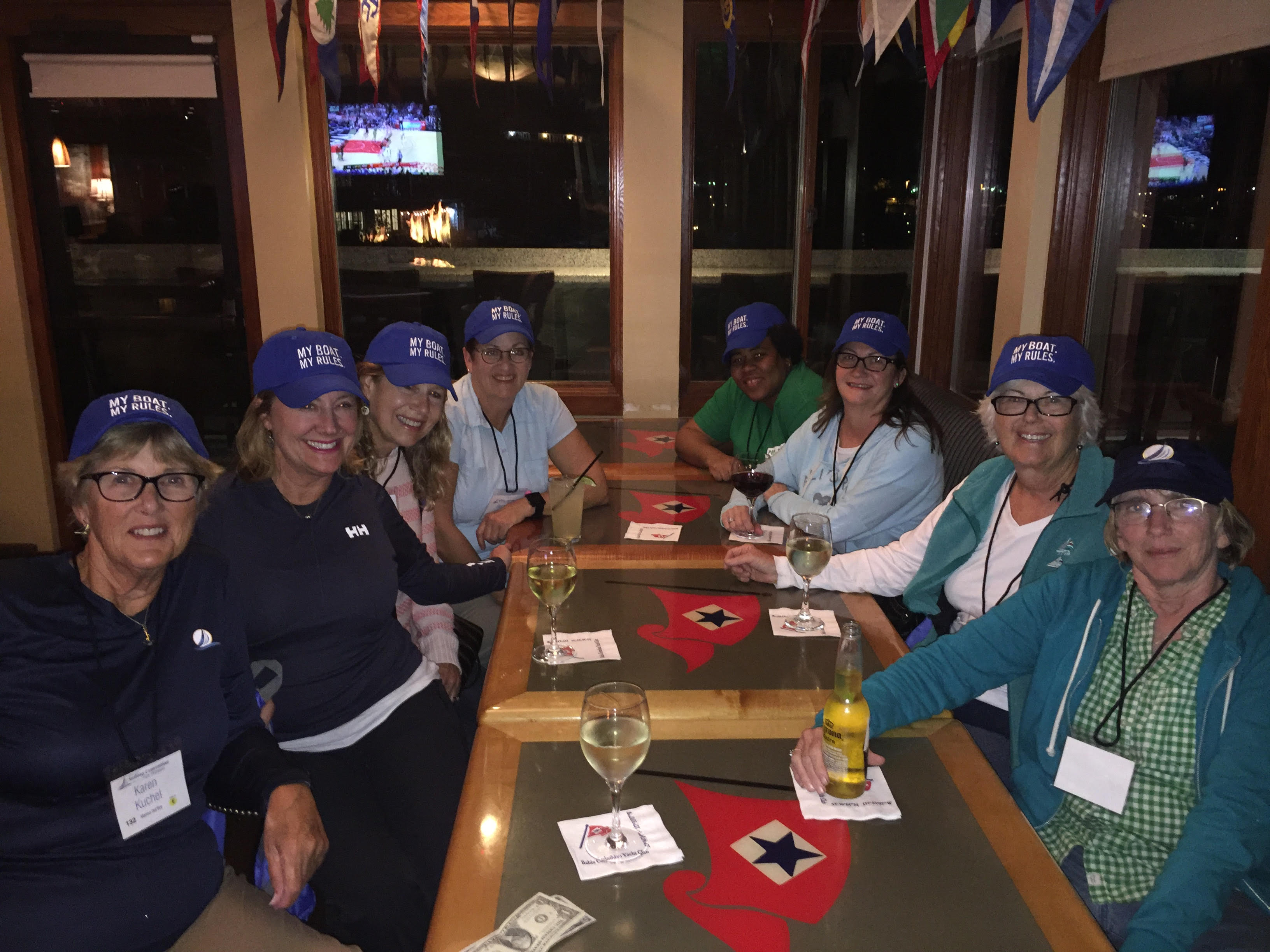 We had so many women (205 in total), they had to close down a men's restroom to accommodate us all :D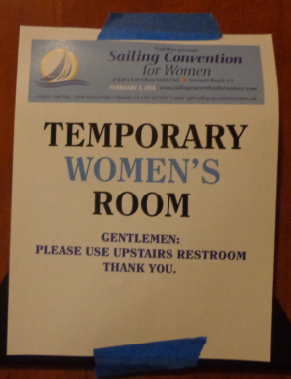 If you're reading this
If you're reading this and thinking of sailing, or attending a sailing conference, I would say..100%..do it!!
Sailing has changed my life and is a really great balance for all the other elements of my life. It requires patience, an eye for detail while being able to see the big picture, logical thinking. There are so many different areas that anyone can find something they love doing, and the community is wonderful! Go sail!!
Written on February 5, 2018