Thursday April 12th
Hasky Data Things
Back in the Lab today
I got in at 7, so I was able to take a nap, and ended up waking up 2 minutes before they opened up (at 8) :D
I have a phone interview today, also, in the PM.
I'm going to a Technical Interview Meetup today. I haven't been to this Meetup before, but thought it may be worth a shot. I heard they go through Algorithms and stuff, and it's language-agnostic (did someone say..Haskell?) :D
My friend also has a space with some extra desks, so I may wander over there next week. I don't want to be spoiled, though; he told me he has some amazing wifi :D
Been learning about Datatypes and TypeClasses
Trying to wrap my head around that stuff.
Unlike other languages where you can kind of ignore the warnings, Haskell isn't the best language to do that.
Today, I found out about the one that aborts your compilation if you haven't accounted for exhaustive pattern-matching. Makes sense, actually.
So this sort of thing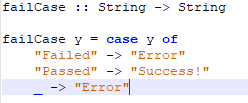 You account for all cases of your definition
My data-type
It was something like
data Band = Singer
            | Drummer
            | Guitarist
            | Bassist
            | Groupie
            deriving Show

Aerosmith was one of my favourite (and still is) bands growing up. So why not be cute?
So I tried to compile and got this

Dangit! What's the problem? Why don't you just work!?
Oh wait….it is non-exhaustive.
So I added a fail-safe.

Groovy. Compile, man.
Oh no..not again! Today is just not my day, is it?

Yeah, had to be Joey. He's always the one. I can fix that.

And..somehow..it all worked out!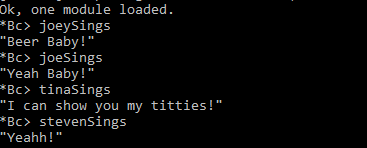 So…working through
Trying to understand typeclasses and all that. Hopefully I can start actually building more stuff, and I can blog about that.
Helped me
Written on April 12, 2018