Thursday June 7th
GSoC and RustReach Day 25, \x -> x + 1
Today was brutal
I was tired as heck this morning, but my workmates actually decided to do a coffee break, so we got coffee and fraps downstairs! The sugar helped me stay awake, and I actually completed my sprint two hours before the end of the day, so I spent the rest of the afternoon learning PHP on my own.
I was actually amused today, being on the other side of developing again. But today I had the motivation to get things done and even found some bugs.
I was supposed to hang out with some JPL-ers, but I am much too tired. I'm planning to take a nap, get up and work on some Rust until the early morning, and come home tomorrow and work on Haskell during the weekend.
Saturday is JPL's open house, so I'll head over there early, and then spend the rest of the day doing Rust and Haskell (PM Rust and all day Sunday Haskell).
I also have an exam on Monday.
I'm still heartbroken
It's been rough. The next few days after LambdaConf always feel that way. I heard my friend missed his flight because he was so tired after LambdaConf; it takes a lot out of you because you give your all, because it's your community. These people are from all over the world and you may not see some of them until next year, at least.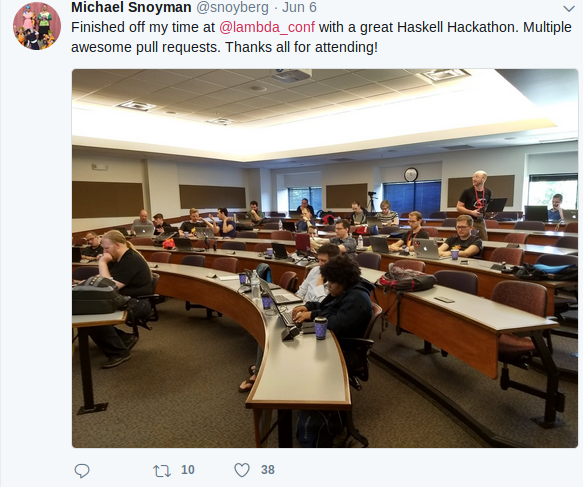 In the afternoon
A little birdie (with big puffy hair) sent me this photo. It really made me smile!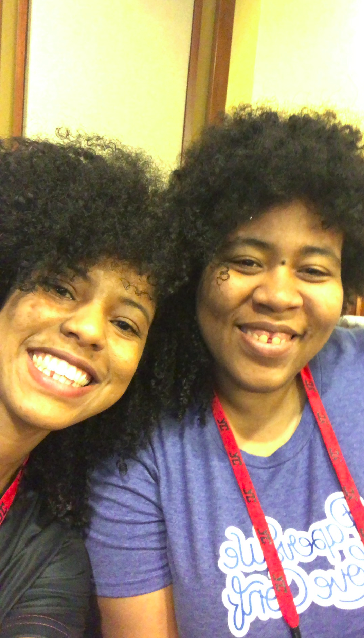 Oh, and she calls herself "Lambda Turner" now! :D See what one conference has done! :D
I could definitely NOT have been there (nor could she) without Scholarships this year. I hope that one day I can return the favour, because this conf is my favourite and has meant so much to me, attending for my second year.
Anyways
I should take a nap and get up to do some work a bit later! :D
I can't believe it's the end of the week already. It's been a great week!
Written on June 7, 2018