Thursday October 12th
SCNA and featured in WSA Magazine!
First up…I received a Grant courtesy 8th Light to attend the SCNA, which is a software conference that focuses on Craftsmanship. It is a one-day conference of talks, and on the second day, we have a day of a code! I'm really excited and feel quite fortunate to be a part of this event this year!

I'll be sure to document my experience of the event, and of course, my progress/ learning!
WSA - Santa Monica Bay chapter
So..we were featured in WSA (Women's Sailing Association)'s magazine for the past race!

Here I am; photos courtesy WSA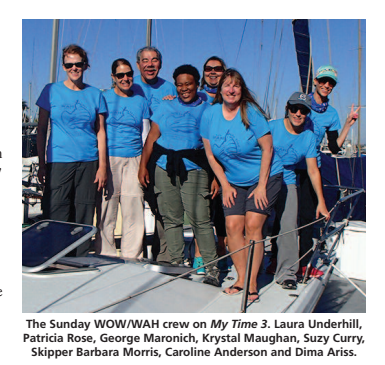 And here is a photo of us on the boat, holding signs that say "I love WSA"! You can see me holding the heart emoji :P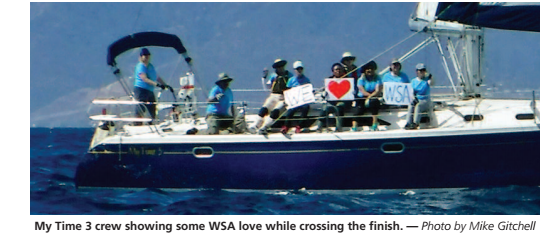 Upcoming
I am meeting with my JPL-mentor this evening (update this was wonderful. We ate dumplings, listened to Jazz and talked about radioisotopes, and then I received the ACM Sigplan 1992 Haskell Documentation, with some Fortran scribbled on the back of some pages!) :)
Tomorrow, I pack for a day-trip to San Jose, where I'll be attending a Data Science event at Paypal.
I'm also finishing up my Nanodegree, which should be done in the next week and a half. I may actually do both the back-end and Data Science projects. I may choose to do the Back-end for Nov (1st), and the Data Science by mid-Dec deadline. We'll see. I realized they're teaching SQL and Vagrant, so I'm hopping right into that. I am having a bit of an issue with vagrant on one machine, but the other one should be better (hopefully will be all set up by end of this weekend).
Going on a day-sail on Sunday
Working with my classmate on a C++ midterm project
Oh, and this upcoming Wednesday is my Midterm exam
I'm hoping that once my Nanodegree is completed, I can just focus on C++, and do some Haskell and PureScript (continue)
Also, learn a bit of Excel (just the function-related parts)
Apple Valley
My friend also invited me to an Apple Valley event. If it's fun, I'll post a couple pics :)
There is talk again of a Category Theory group. If it goes through, I'll def be up for that!
I'm enjoying C++ class, as well as learning new languages like PureScript. I'm thinking of taking Concepts of Programming Languages next semester, in lieu of Discrete Structures. We'll see.
Katas
use heron's formula to find area of triangle given a, b, c
def heron(a, b, c):
    import math
    s = (a + b + c) / 2 
    area = (s * ((s - a) * (s - b) * (s - c)))
    return math.sqrt(area)

Written on October 12, 2017