Thursday October 5th
PureScript Night recap
Tuesday night, we had our first PureScript Meetup!
Here are some of my notes!
JS issues … why PureScript
JS had for Phil, an inability to reason about code
scaling up/ getting up to speed with a large code-base is often difficult
PureScript produces minimal and easily readable JS
it doesn't contain bloated libraries; you use more of only what you need
Haskell beginners can contribute
it has a fast runtime system
strong expressive types
there is more predictability of code from PureScript to JS
Why he wrote a language vs taking it off the shelf
TypeScript/Flow vs PureScript

real row polymorphism from type checker
ADTs

Haste/Fay

Fay didn't include typeclasses support
GHCJS was not easy to read for JS team
didn't have runtime
Roy (programming language) was the closest that satisfied what he wanted
Resources
Pursuit - PureScript documentation (built with Yesod)

PureScript Contrib
PureScript Node
PureScript web

Core libraries

!!YPER (server side rendered), uses type system to enforce certain things
Pux (for front end applications)
PureScript Halogen (100% PureScript)
Applications
Slamdata has 100% PureScript on front end (developed Halogen)
Quicktype -IDL
Insect (a personal favourite of mine! )
Getting Started
install pureScript contrib
most people use pulp
book (PureScript by example)
Getting started with PureScript (pureScript documentation)
Future Work
ApplicativeDo
SAT Solvers (constraints/ solutions)
parsing JSON
argonaut
simple generics
CodeGen talk
Brady did a talk on using CodeGen in PureScript from Haskell Types
After Meetup-hangout
We went out for drinks afterwards at the Arts District Brewery. It was really fun! Phil was also kind enough to give two of us a ride home. :) I have a lot of great expectations for this group!
This led to my writing my first PureScript programme!
I started a repo with such projects, as I continue attending the Meetup and work on PureScript on my own.
On my own
Easy to get set up
It's surprisingly easy to get up and running with PureScript. Here is checking the type of "map".
They have you do Euler question number 1. I've done it in Python before, so that was my comparison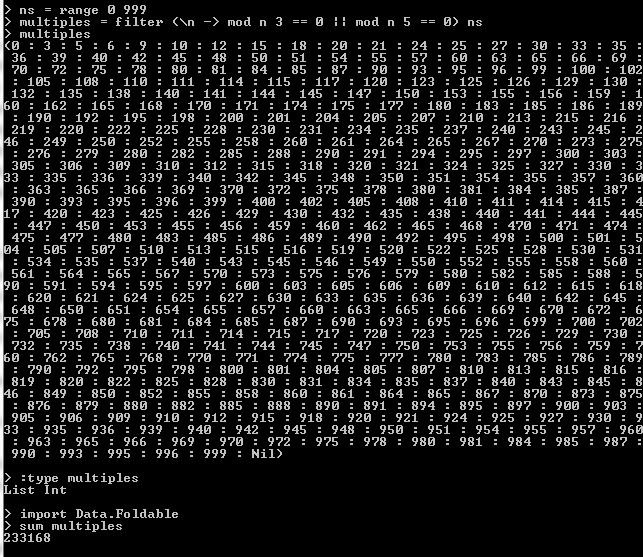 Obligatory "Hello World" in PureScript

installing pureScript-global and browsing the module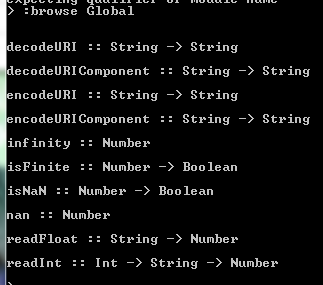 solution for my exercise from my first programme
Katas
Find number of non-even substrings in a string integer
def solve(s):
  arr = []
  import itertools
  a = (s[i:j] for i, j in itertools.combinations(xrange(len(s)+1), 2))
  for i in a:
    if int(i) % 2 != 0:
      arr.append(i)
  return len(arr)

Find number in word and return its integer equivalent
function findNum(n){
  result = 0
  n = n.toLowerCase()
  var a = n.replace(/[^\w\s!.]/g,'');
  var b = a.replace(/ /g,'')
  for (var i = 0; i < b.length; i++){
    if (b.indexOf('one') !== -1){
      result = 1
    }
    else if (b.indexOf('two') !== -1){
      result = 2 
    }
    else if (b.indexOf('three') !== -1){
      result = 3
    }
    else if (b.indexOf('four') !== -1){
      result = 4
    }
    else if (b.indexOf('five') !== -1){
      result = 5
    }
    else if (b.indexOf('six') !== -1){
      result = 6
    }
    else if (b.indexOf('seven') !== -1){
      result = 7
    }
    else if (b.indexOf('eight') !== -1){
      result = 8
    }
    else if (b.indexOf('nine') !== -1){
      result = 9
    }
    else if (b.indexOf('ten') !== -1){
      result = 10
    }
  }
  return result
}

take an array, sort it in desc order and add liftoff essentially
function liftoff(instructions){
    instructions = instructions.sort((a, b) => a - b);
    var a = instructions.reverse()
    var b  = a.join(' ') + ' liftoff!'
    return(b)
}

collatz conjecture..count how long it takes number to reach it…
def get_collatz(n):
    #print n 
    count = 0 
    while (not n == 1):
      if n % 2 == 0:
        n = n / 2 
        count = count + 1 
      else:
        n = (3 * n) + 1 
        count = count + 1 
    return count

return day given digit eg 1 == Monday, etc
function whatday(num) { 
  if ((num) == 1){
    return 'Sunday'
  }
  else if ((num == 2)){
    return 'Monday'
  }
  else if ((num == 3)){
    return 'Tuesday'
  }
    else if ((num == 4)){
    return 'Wednesday'
  }
  else if ((num == 5)){
    return 'Thursday'
  }
    else if ((num == 6)){
    return 'Friday'
  }
    else if ((num == 7)){
    return 'Saturday'
  }
  else{
    return 'Wrong, please enter a number between 1 and 7'
  }

check if string includes 'tree fiddy' or '3.50' or 'three fifty'
function isLockNessMonster(s) {
    var a = 'tree fiddy'
    var b = '3.50'
    var c = 'three fifty'
    
    if (s.includes(a) || s.includes(b) || s.includes(c)){
      return true
    }
      else{
        return false
      }
    return
}

Armstrong number. If for each digit raised to pow 3, total/sum is the number, return true
function armstrong(num){
  var a = num.toString()
  var b = a.split("")
  var total = 0
  for (var i = 0; i < b.length; i++)
  {
    var c = Math.pow(parseInt(b[i]), 3)
    total = total + c
  }
  if (total == num){
    return(true)
  }
  else{
    return(false)
  }
  return
}

turn num to binary string
def int_to_bin(x):
	z = str(bin(x));
	return z[2:]

Written on October 5, 2017