Wednesday March 6th
Birthday!
It's my Birthday!
It's actually the day after, but that's all good.
Here is a cake!
It says "Happy Birthday Krystal :D :D"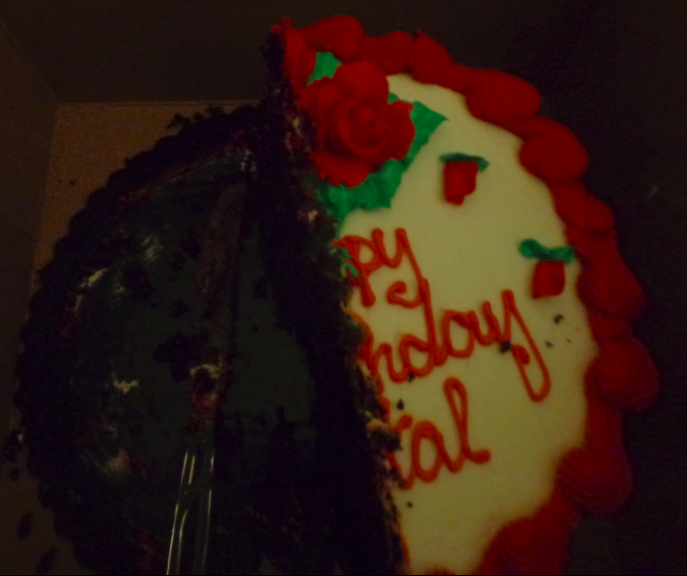 They got it for me because it's chocolate, and we were talking about chocolate one time, and I mentioned that my country of birth supposedly has high-quality chocolate, and that I grew up with cocoa trees. My grandad, who was an electrical engineer (he passed away), had some in his estate, and he would save them for me when I visited. I think part of why I wanted to become an engineer started around the time he passed away. All of a sudden, I felt like something was missing in my life that I really wanted fulfilled. I miss him a lot, but I know that he would have been so proud that I'm an engineer today.

I'm planning on mostly working through the weekend, because I really am enjoying everything. Time just passes by. It doesn't feel like work at all. I'm learning a lot. It's such a positive environment and I just feel really grateful.
I joined an LLVM group!
I found one, along with the Women in Compilers group! It's sort of this thing I've been doing on my own. A lot of people can't talk about work, so they sort of have this life outside of work where they do things they're interested in. It may or may not have some crossover with what they're doing, but they'll never tell. (and I won't!)

I didn't make it to the LLVM meeting tonight (because well, I got carried away with work lol), but I plan to go to their other meetings. Also, there is a meeting next week in SF that I can attend, and have been invited to attend, so I can hopefully attend that one. I haven't been in SF for a few weeks, so that should be worth attending.
Being here
I have so many friends here! I'm making so many more! It's so easy for me to make friends here…good friends. I really feel like I have a network of support here. A lot of people just want to help me, and I feel like I'm being lifted up. People are always looking for things you are good at, so that you can move forward, which is really positive. It's an environment of helping you play to your strengths and finding your talents, which is really great.
Today
Someone hinted that I have a natural ability for this stuff, that is above the bell curve of what they typically see. That's terrifying, because I never thought I'd be an engineer (I mean, I did the subjects in high school, but..). Life has been strange.
Anyways
I have enough planned for the weekend. So that's about it!
Written on March 6, 2019